October 18, 2019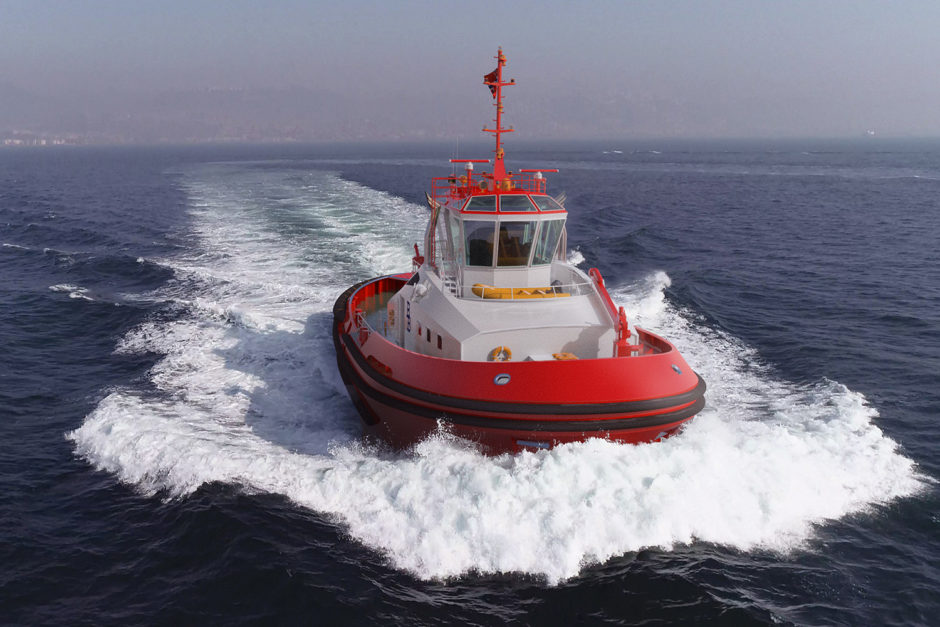 Robert Allan Ltd. has completed the design of a new TRAktor 3000-Z escort tug for Bukser og Berging of Lysaker, Norway who have placed an order for two of the vessels with Sanmar Shipyards of Turkey. The design was developed working closely with both Bukser og Berging and Sanmar to arrive at a design achieving not only the Owner's requirements but also suiting Sanmar's tug building practice. Bukser og Berging already operates several Robert Allan Ltd. designs and these two new builds will be the 6th and 7th tugs delivered to them by the busy Turkish builder.
The design features a new hull form and accordingly significant design verification was performed using Computational Fluid Dynamics. Analyses included verification of ahead speed, astern speed, bollard pull, escort performance, and directional stability in order to help ensure the vessel will perform to the Owner's requirements.
The new tugs will measure 30.45 m long x 12.80 m beam and have a draft with 100 DWT of 6.2 m. Installed power will be with 2 x 2200 kW high speed engines driving CP propellers in an IMO Tier III emissions compliant installation.
The tugs will have a bollard pull of approximately 75 tonnes and be capable of generating a steering force in excess of 80 tonnes and be in full compliance with Class and upcoming IMO escort stability criteria.
The tugs will operate skeg/stern first the vast majority of the time. Accordingly, visibility over the stern has been optimized and the stern of the hull is ice strengthened for operations in light ice conditions.
The accommodations are designed for a normal operating crew of up to 7 personnel. The Master and Chief Engineer cabins are located on the main deck with a single and two double crew cabins located in the lower accommodations.
The first of the two new tugs is scheduled for delivery in the Fall of 2020.
For more information on the TRAktor 3000-Z or any other vessel designs developed by Robert Allan Ltd., please contact: design@ral.ca.