Fireboats
Robert Allan Ltd. has designed customized, high-performance fireboats for major port cities around the world. These vessels also serve as Incident Command Centres or as primary response vessels for any local emergency actions requiring water-based control.
Our fireboats have a diverse array of configurations, propulsion types, and fire-fighting performance, each based on the development of a very specific "Needs Assessment" of the risks in the individual port.
Designated as the RAnger series, fireboats designed by Robert Allan Ltd. represent some of the most capable and diverse vessels of their type in the world today.
The vessel class designation is denoted first by propulsion type:
J – waterjets
P – conventional props
Z – Z-drive
V – Voith drives
and then by length; For example a RAnger V-4000 is a Voith propulsion, 40 metres length version.
See also information on our Fire-fighting Tugs.
Each RAnger design is unique and we have organized them here by length:
RAnger J-1200
Country: Canada
Client/Port: Vancouver
Length: 12 m
Fi-Fi Capacity: 680 m³/hour
Propulsion: twin-jets
RAnger J-2000
Country: USA
Client/Port: Philadelphia
Length: 20 m
Fi-Fi Capacity: 1250 m³/hour
Propulsion: quad-jets
RAnger P-2000
Country: USA
Client/Port: Portland, MA
Length: 20 m
Fi-Fi Capacity: 680 m³/hour
Propulsion: twin-screw
RAnger Z-2300
Country: Canada
Client/Port: DND
Length: 23 m
Fi-Fi Capacity: 1130 m³/hour
Propulsion: Z-drive
RAnger P-2400
Country: USA
Client/Port: Boston (Massport)
Length: 24 m
Fi-Fi Capacity: 1360 m³/hour
Propulsion: quad-screw
RAnger P-2700
Country: USA
Client/Port: Baltimore
Length: 27 m
Fi-Fi Capacity: 1600 m³/hour
Propulsion: twin-screw
RAnger P-2700
Country: USA
Client/Port: Chicago
Length: 27 m
Fi-Fi Capacity: 3200 m³/hour
Propulsion: twin-screw
RAnger P-3000
Country: China
Client/Port: Hong Kong
Length: 30 m
Fi-Fi Capacity: 970 m³/hour
Propulsion: twin-screw
RAnger V-3200
Country: USA
Client/Port: Los Angeles
Length: 32 m
Fi-Fi Capacity: 8600 m³/hour
Propulsion: VSP
RAnger V-3300
Country: USA
Client/Port: Long Beach
Length: 33 m
Fi-Fi Capacity: 9300 m³/hour
Propulsion: VSP
RAnger P-3500
Country: China
Client/Port: Hong Kong
Length: 35 m
Fi-Fi Capacity: 1800 m³/hour
Propulsion: twin-screw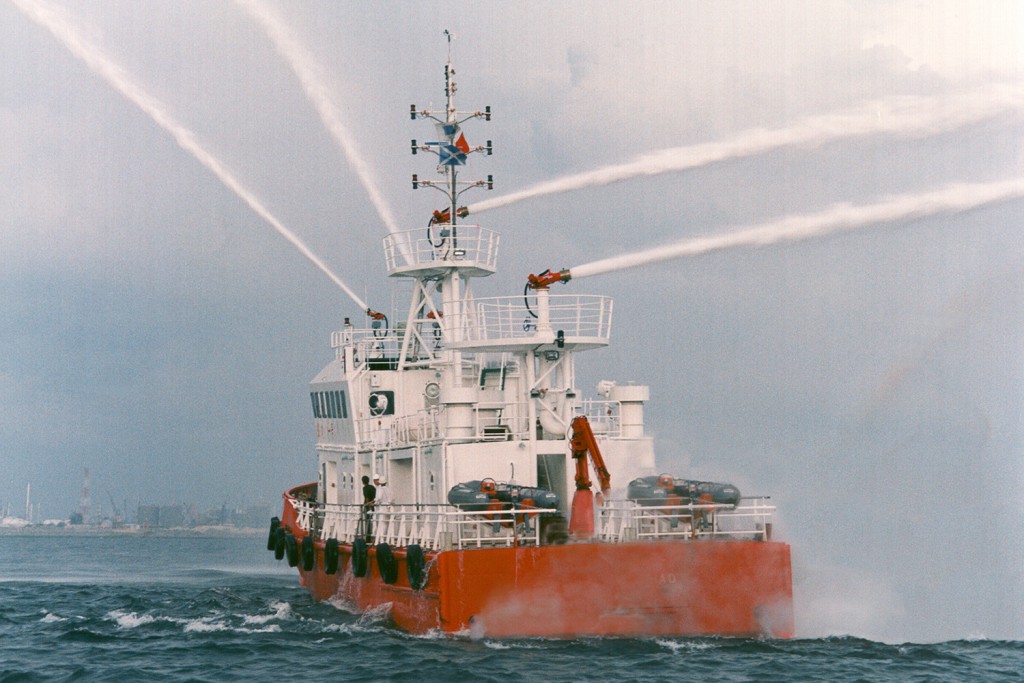 RAnger P-3600
Country: China
Client/Port: Shenzhen
Length: 36 m
Fi-Fi Capacity: 2700 m³/hour
Propulsion: twin-screw
RAnger P-3900
Country: China
Client/Port: Dongguan
Length: 39 m
Fi-Fi Capacity: 4500 m³/hour
Propulsion: twin-screw
RAnger P-4200
Country: USA
Client/Port: New York
Length: 42 m
Fi-Fi Capacity: 9600 m³/hour
Propulsion: quad-screw
Related Press Releases