May 16, 2018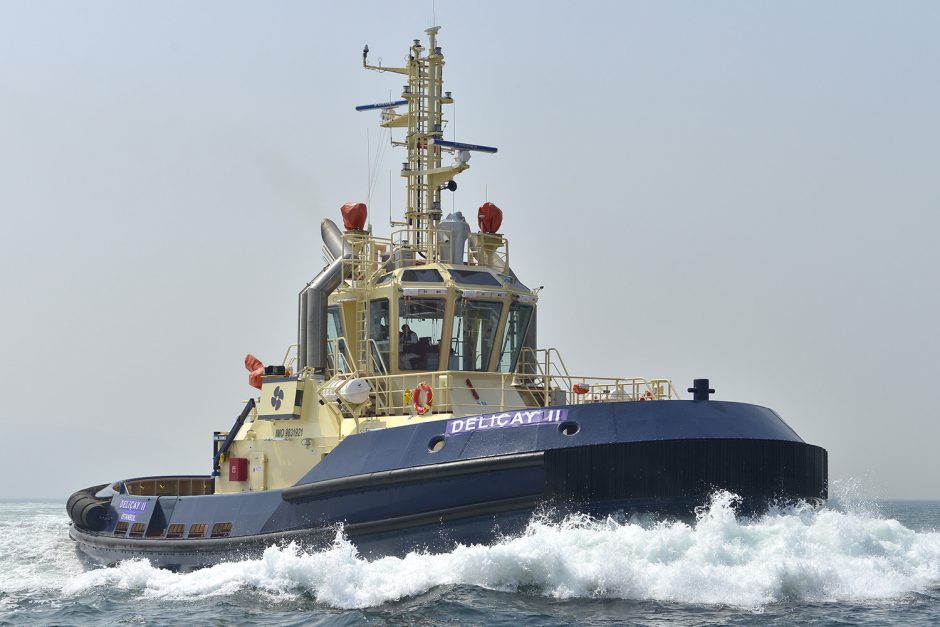 The first 70 tonne bollard pull version of Robert Allan Ltd.'s TRAktor 2500-SX tractor tugs has been delivered to her Owner, Svitzer A/S of Denmark. The vessel was built by Sanmar Shipyards in Turkey, and christened Svitzer Vale. The vessel is the second TRAktor 2500-SX to be delivered and the first 70 tonne configuration of this tug, designated by Sanmar as their "Deliçay" class.
In order to allow for a high bollard pull in this length hull, the beam is relatively wide for the length. To prevent potential directional stability issues, The stern of the hull features the simple but extremely effective StRAke stabilizers developed by Voith and Robert Allan Ltd. The result is an efficient, highly controllable and manoeuvrable tractor tug despite having a low length to beam ratio.
The hull features a raised focsle deck for operation in rough weather and for keeping the lower accommodation space above the design waterline for MLC compliance. The key hull particulars are as follows:
Length, overall: 25.30 m
Beam, moulded: 12.00 m
Depth, moulded: 4.46 m
Harbour draft: 6.45 m
GRT: 323
The tug was designed and constructed to ABS Class requirements and has the following notation:
ABS ✠ A1, ✠ AMS, ✠ ABCU, Towing Vessel, UWILD, Unrestricted Service, QR
Primary tank capacities at 100% full are:
Fuel oil: 85.5 m³
Potable Water: 12.5 m³
Foam: 4.9 m³
The vessel has been outfitted to a very high standard for a crew of six. All accommodations are MLC compliant and each featuring a private en-suite toilet space.
The wheelhouse is designed with a single split control station for both ahead and astern operation with excellent visibility over the aft working deck. The efficiently laid out engine room includes a separate switchboard room and separate engineer's workshop.
Main propulsion consists of a pair of Caterpillar 3516C diesel engines each rated 2,100 bkW at 1600 rpm driving Rolls Royce US 255 FP P30 azimuthing drives through straight line carbon shafts.
The electrical plant consists of three identical Caterpillar C 4.4 diesel gensets, each with a power output of 86 ekW, 50 Hz, 400 V.
FIFI 1/2 capability is provided by a Fire Fighting Systems SFP 250×350 XP horizontal centrifugal pump, driven off the front of starboard main engine. A remote operated monitor model FFS1200/300LB with 1200/300 m3/hr sea water/foam capacity if fitted on the starboard side.
Deck machinery features a DMT Model TW-E250KN, double drum, frequency controlled electric drive towing winch with tension and length indication, constant tension. Band brake holding load is 127 tons on the 3rd layer. Haul-in, low speed on 1st layer is 25 ton @ 0 – 9 m/min while at high speed, 1st layer is 8 ton @ 0 – 28 m/min
Ship-handling fenders at the stern consist of an upper row of 800 mm diameter cylindrical fender and a lower course of W-fender. 300 mm D-rubber lines the shear strake. And 300 mm thick W-fenders are fitted at the bow.
Typical of Robert Allan Ltd. tug designs, significant noise and vibration reduction measures have been implemented throughout, including resiliently mounted main engines, resiliently mounted gen-sets and auxiliary engine, high attenuation engine exhaust silencer systems, ventilation intake air silencers, sound dampening deck and bulkhead treatments, and other critical insulation measures.
On trials, Svitzer Vale met or exceeded performance expectations, with the following results:
Bollard Pull, ahead: 71 tonnes
Free running speed, ahead: 12.6 knots
For more information on Robert Allan Ltd.'s TRAktor 2500-SX tugs, or the Rotortug® ART 60-25SX variant of the design, please email: design@ral.ca