November 4, 2010
In October 2010, the Offshore Support tug Smit Siyanda was delivered to her Owners, SMIT Shipping Singapore Pte. Ltd. of Singapore. The vessel will be operated by SMIT Amandla Marine (Pty) Ltd. of South Africa.
The Smit Siyanda was built by the Keppel Nantong Shipyard Co. Ltd. of China to a design by Robert Allan Ltd., Naval Architects of Vancouver, BC, based on the now well-proven platform of their RAmpage 5000 series offshore tug designs. This new vessel, however, has a rather more diverse operating mandate than its predecessors; the SMIT Siyanda was primarily designed for assistance at an SPM buoy operation, with a range of duties including static towing over the bow, hose handling, hose flushing, dive support, fire-fighting operations, general maintenance of the SPM buoy, anchor-handling, and chain replacement operations of the SPM buoy.
This multi-purpose vessel is of rugged all-welded steel construction, with an extended forecastle deck, with a strongly raked, two level superstructure above, topped by a spacious wheelhouse providing maximum all-round visibility. A major and unusual feature in a vessel of this size is a 3.3 m x 3.1 m moon pool on the centreline close to midships, with a side launching gantry for a dive bell, etc. Adjacent is a dive decompression unit. The aft deck is dominated by the presence of a large articulated crane and a double drum towing/anchor-handling winch.
The tug was built to Bureau Veritas Notation: 1 ✠ Hull, ✠ MACH, Tug, Fire-Fighting Ship 1 with Water Spray, Unrestricted Navigation, AUT-UMS, Oil Recovery.
Principal particulars
Length Overall: 49.50 metres
Beam, Moulded: 15.00 metres
Depth, Moulded: 6.75 metres
Operating Draft, Maximum: 6.20 metres
The tug is equipped to carry a reasonable amount of cargo fuel and potable water, as well as providing capacities for recovered oil and the foam and dispersants necessary to support its Fi-Fi and Oil-Rec designations.
Capacities
Deadweight at 5.60 metres: 1,270 tonnes
Deck cargo capacity: 200 tonnes
Deck strength rating: 5 T/m²
Cargo deck area: 210 m³
Fuel Capacity: 576 m³
Potable water: 128 m³
Fi-Fi foam capacity: 23 m³
Dispersant: 26 m³
Recovered Oil: 116 m³
Outfitting
The vessel is extensively outfitted to support the varied missions. At main deck level the accommodation is entered through a large wet gear storage room/lobby. There are cabins for eight (8) divers, the fully outfitted galley and an expansive crew lounge and mess room. Adjacent to the galley is a galley store, with 10 m³ each of refrigerated and freezer stores, as well as a large dry store space. There is a medical treatment room adjacent to the DDC/divers change room. On the forecastle deck are three (3) Officers cabins, each with en-suite plumbing, a Dive Superintendent's room, and the ship's office. Aft of these is the dive control room and dive machinery space. At "A" deck level above are the Senior Officers cabins, all with en-suite plumbing and a Company Rep cabin. The wheelhouse is equipped with a large split style console forward for control of the majority of vessel operations. This is supplemented by an aft control station. Below decks is a large Machinery Control Room overlooking the machinery space. All accommodation and control spaces are fully air-conditioned.
Propulsion
Propulsion machinery comprises a pair of Wärtsilä 8L26 marine diesel engines; each rated 2,720 kW at 1000 rpm, and each driving a Rolls-Royce model US305 CPP Z-drive unit with a 3200 mm diameter propeller. This combination delivered a certified, sustained Bollard Pull of 97.8 tonnes, and a free running speed of 14.9 knots on trials. Maneuverability is enhanced by a controllable pitch type bow thruster, electric motor driven, rated at 8.0 tonnes thrust.
Electrical
Electrical power is provided by a combination of independent diesel generators and two PTO-driven generators of the front of the main engines. The diesel generators are Caterpillar 3406C, each rated 260kW. The shaft generators are rated 700 kW. In addition there is a harbour/emergency generator, rated 250 kW, located on the focsle deck level.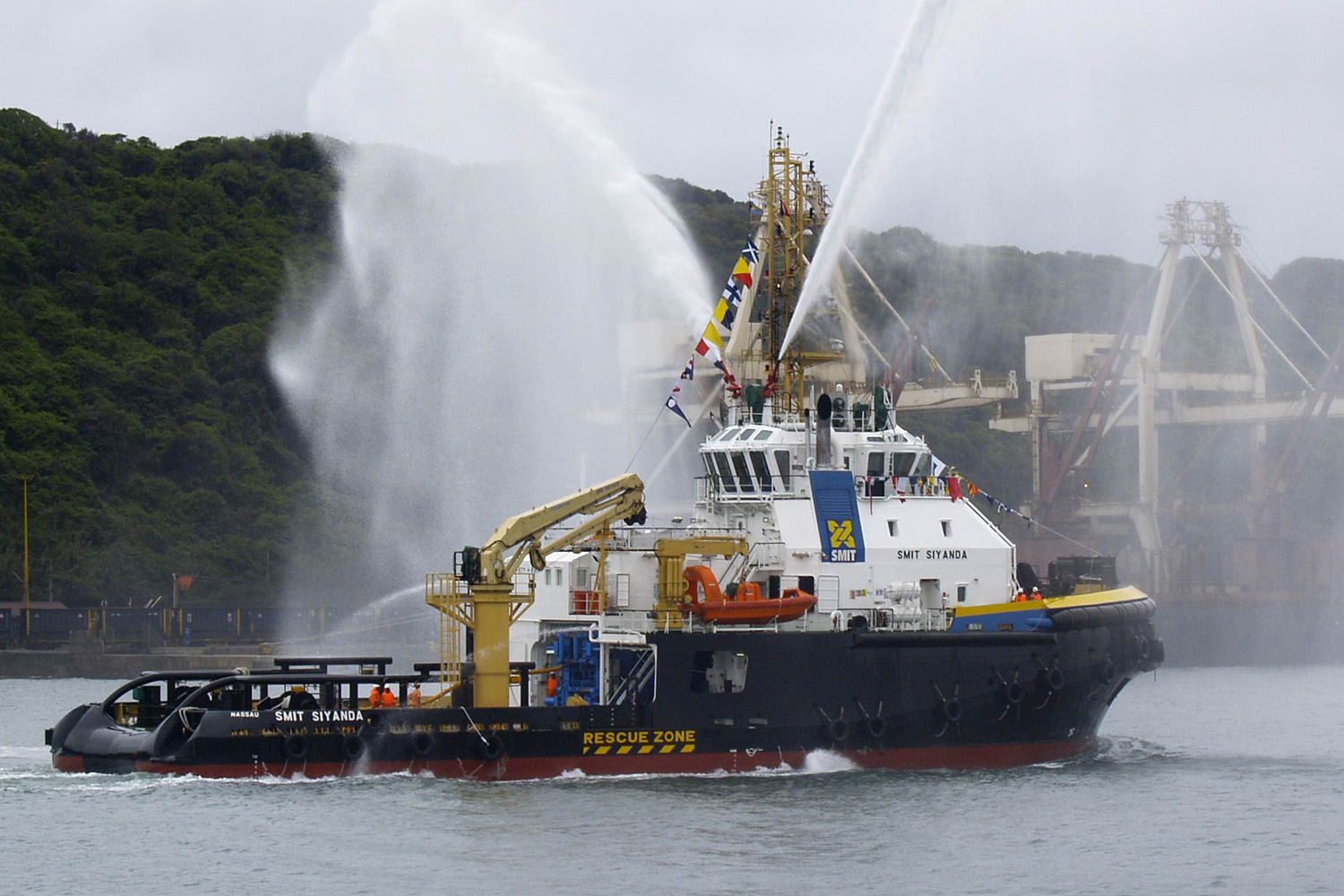 Fi-Fi
The SMIT Siyanda is equipped with a fully rated Fi-Fi 1 system comprising two (2) fire pumps, each rated 1500 m³/hr and driven by the main engines through a front PTO/clutch. There are two combination water/foam monitors, each rated 1200 m³/hr, as well as a complete deluge system, fed via a branch of the Fi-Fi system. A 23 m³ foam tank is served by two electrically driven foam pumps, each rated 36 m³/hr.
Deck Machinery
This ship is extensively equipped for its wide range of duties. Arranging the deck to accommodate the suite of gear was a major design challenge as the locations and functions of many components led to them competing for the same critical space. The aft deck incorporates a stern gear arrangement suitable for heavy-duty anchor handling, including a 4.55 m x 2.2 m diameter stern roller, rated 200 tonnes SWL, and a Karm fork and tow-pins, both rated 300 tonnes SWL. There are two (2) aft anchors with winches for fixing position, and a heavy duty waterfall type towing/anchor-handling winch. A rig chain locker is fitted to enable SPM buoy chain replacement and maintenance. Crash rails for cargo are fitted throughout the length of the working deck. The deck crane is an HS Marine, model AKB 190/18/5 rated 90 tonne metres, and also rated for personnel-riding operations with a 2 tonne capacity.
The main towing winch is a Rolls Royce model TW 1500/1500 F. Both the main towing drum and the upper level anchor-handling drum are fitted with 1000 metres of 64 mm SWR. The winch has a brake rating of 300 tonnes, and a light line recovery speed of 49 m/minute.
The forecastle deck forward is equipped for ship-handling, and is accordingly fitted with a large double-drum Rolls Royce winch, model TW 2500/500/40 F. Each side is equipped with 600 metres of 60 mm, SWR.
For FPSO hose handling and servicing, there is a hose drain sump recessed into the main deck, and a 350 mm hose flushing connection, served by the fire-fighting pumps.
Pollution Response: The vessel is certified as an Oil Recovery vessel, and accordingly is fitted with two deep tanks with a total Rec-Oil capacity of 135 m³. There is also an Ayles-Fernie dispersant spray system, on the focsle sides forward, capable of seven (7) metres outreach, with a spray rate of 40 m³/hr. diluted dispersant or 4 m³/hr. neat dispersant.
Since its introduction in 2004, the RAmpage 5000 Class of Offshore Support tugs has been very well received, with now six vessels in service, three variants under construction, and two more configurations under design development.
For further information on the RAmpage 5000 Class tugs, or any other high-performance tug designs, please contact us.
General Arrangement