January 13, 2009
The third in a series of six (6) high-performance Terminal Escort tugs, the Svitzer Kilroom entered service at the Dragon LNG terminal in Milford Haven, U.K. at the end of December, 2008. The Svitzer Kilroom is the largest and most powerful of the RAstar series of tugs being built for this major terminal operation, all to the unique new RAstar designs developed by Robert Allan Ltd., Naval Architects of Vancouver, B.C. This RAstar 3900 Class tug was constructed by Freire Construcciones Navales of Vigo, Spain and completed trials in early December, 2008.
In addition to this 39 metre tug, a series of five (5) smaller sisters, the RAstar 3400 Class tugs are also being built by Freire for this demanding service.
The principal particulars of this RAstar 3900 Class tug are as follows:
Length Overall
Beam, Moulded
Depth, Moulded
Maximum operating Draft
– 39.10 metres
– 14.70 metres
– 6.11 metres (above design baseline)
– 6.55 metres (to underside of drives)
Tank capacities are as follows:
Fuel Oil
Reserve Fuel Oil
Potable water
Lube Oil
– 225 cu. metres (@ escort service draft)
– 175 cu. metres
– 26 cu. metres
– 3 cu. metres
The Svitzer Kilroom is equipped for typical ship-handling and escort work, with a Rolls-Royce model TW 3000/1000H single drum hawser winch on the fore deck, with a capacity for 250 metres of 76 mm diameter high strength towline. The escort-rated winch is driven by a twin-pump electro-hydraulic pump set, and features a three speed drive system, capable of line recovery at 100 tonne line pull at 5.2 m/min. or of rendering at 150 tonnes at 8 m/min. in the first speed range, or of recovering at 24 tonnes at 18 m/min. and rendering at 50 tonnes line pull at 28 m/min. in the third speed range. The aft deck is strengthened for an aft towing winch, but that is not presently fitted.
The accommodation is to a very high standard for a crew of up to ten persons. Two (2) spacious Officer's cabins are located on the main deck, each with private en-suite facilities, and below decks are four (4) double cabins, two of which also have private en-suite facilities. The fully equipped galley serves a large common lounge/mess area, equipped with the latest in video and audio entertainment systems.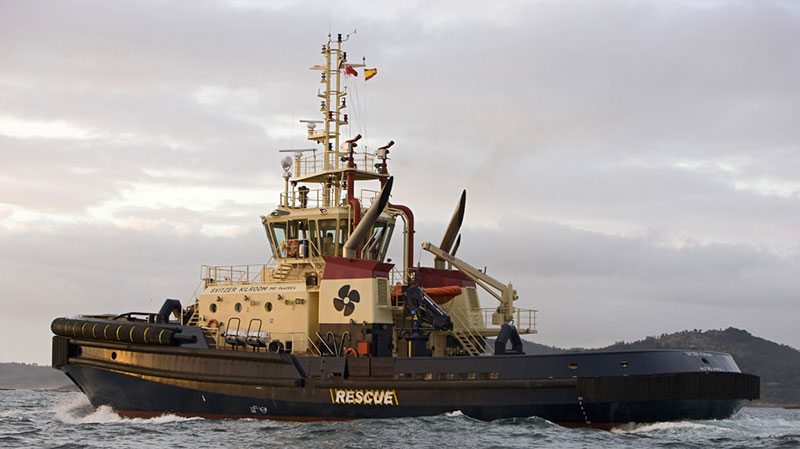 In common with the majority of Robert Allan Ltd. designed tugs, a great deal of attention was paid throughout the design process to mitigate the propagation of noise and vibration. This includes the essential resilient mounting of the main engines, isolation of all exhaust system components, and the extensive use of visco-elastic floating floor systems throughout. The shipyard executed all these requirements exceptionally well, and the reward was an extremely quiet ship throughout, as attested to by the following noise level results at full power:
Bridge Deck:
Main Deck:

Lower Deck:

Wheelhouse
Galley
Mess/Lounge
Master's Cabin
Chief Engineer Cabin
Engine Room
MCR
Crew cabins
– 65 dBA
– 64 dBA
– 64 dBA
– 58 dBA
– 60 dBA
– 110 dBA
– 74 dBA
– 58-60 dBA
The wheelhouse is designed to provide maximum all-round visibility from a single split type master console.
The Svitzer Kilroom is built in accordance with Lloyd's Register of Shipping requirements for a
100A1 Escort Tug, Fire Fighting Ship 1 (2,400 m³/hr) with water spray,
LMC, UMS, 1BS, NAV1 notation, and also in compliance with the UK MCA regulations.
The fire-fighting capability is provided by a pair of main-engine driven pumps, each rated 1,400 cubic metres per hour, which serve a pair of Kvaerner water/foam monitors and a self-protection waterspray system.
The main propulsion components are the following:
| | | |
| --- | --- | --- |
| Engines: | Make | – General Electric |
| | Model | – GE 7FDM 16 |
| | Rated power (MCR) | – 3,050 kW at 1,050 rpm at 100% MCR (ISO 3046/1) |
| Z-Drives: | Make | – Schottel |
| | Model | – SRP 3030 CP |
| | Input power | – 3,050 kW at 1,000 rpm |
The Svitzer Kilroom, successfully completed trials in Spanish waters, delivering performance beyond all expectations during trials, with the following critical results:
Bollard Pull, ahead
Bollard Pull, astern
Free running speed, ahead
– 117 tonnes maximum, 113 sustained
– 113 tonnes maximum, 107 sustained
– 15.7 knots
The RAstar design represents a truly unique development in offshore tug design. The hull form incorporates a significant sponson on the upper hull sides. When the tug is heeled over under influence of the towline during an escort operation, the "downhill" sponson is submerged and a large righting force is generated to improve the stability, thus increasing the towline force. In addition, the hull has a large foil-shaped skeg, also designed to increase indirect towline forces.
The RAstar hull form also provides dramatic reductions in roll amplitude and roll accelerations, thus providing a much safer and more comfortable platform for crews, who are now being asked to conduct docking operations at LNG terminals and similar installations in up to sea-states of 3.0 metre significant wave heights.
For any further information concerning the Svitzer Kilroom, or any other RAstar Series tugs, please contact us.