News
RAmparts tugs find favour in China: the latest evolution of Robert Allan Ltd.'s most prolific tug class
On November 19, 2013, the first of a new series of the RAmparts 3500 Class ASD tug design was delivered to its Owners Tianjin Port, a major port in the northern part of China. The vessel was constructed at Shanghai Harbour Fuxing Shipping Service Company, and was named Jin Gang Lun 26. A sister vessel is under construction at the same shipyard.
The hull of the new 35 metre design has been developed from the very successful 32 metre RAmparts design series, of which more than 100 tugs have been built in the past decade. However the design was extensively customized, including the fendering system, accommodation layout, wheelhouse arrangement, etc., to suit the particular operational requirements of ports in China.
The Jin Gang Lun 26 was built and classed according to Chinese Classification Society (CCS) requirements, with the following notation:
CCS, Tug, Coastal Service
The tug was also designed and built to CCS Ice Class B, and Fire Fighting 1 Vessel, although it is not formally classed to these notations.
Particulars of the RAmparts 3500 class tugs are as follows:
Length O.A.:
Beam, moulded, extreme:
Depth, moulded (hull):
Maximum Draft:
- 35.00 metres
- 12.40 metres
- 5.40 metres
- 4.22 metres
Primary tank capacities are:
Fuel Oil:
Fresh Water:
Foam:
- 171 m³
- 30 m³
- 20 m³
The vessel has been outfitted with full accommodation for a crew of up to 14 persons. The Master's cabin is located on the main deck, while the Chief Engineer and three additional 4 crew cabins are located on the lower accommodation deck. A spacious mess/conference room is also on the main deck.
The deck machinery comprises two ship assist/hawser winches forward, and a radial arm tow hook on the aft deck. In addition, a capstan is installed on the aft deck to facilitate line handling operations.
The wheelhouse is designed for maximum all-round visibility with a U-shaped control station selected by the Client to provide maximum visibility to both fore and aft deck working areas. Main propulsion for each tug consists of a pair of Daihatsu 8DKM-28eF diesel engines, each rated 2390 kW at 750 rpm, and each driving a Kawasaki, KST-240ZC/B-2.8 controllable pitch Z-drive unit, in ASD configuration.
The electrical plant comprises three (3) identical diesel gen-sets, each with a power output of 100 ekW, and designed for parallel operation.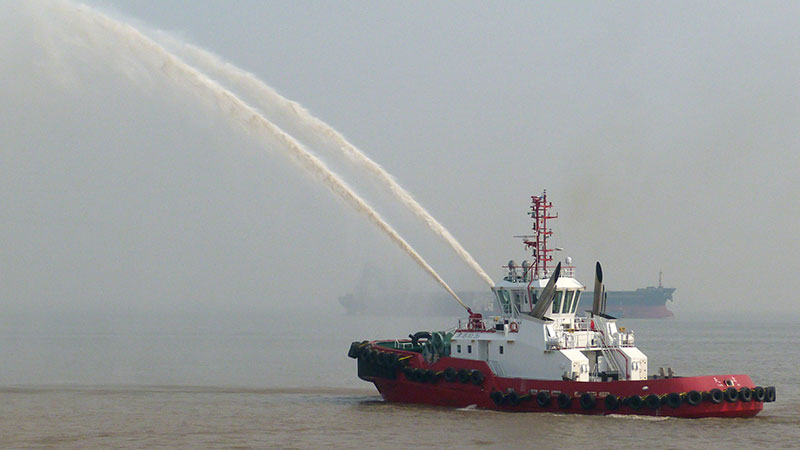 Ship-handling fenders at the bow consist of one row of 700 x 350 cylindrical fender at the main deck level, with 600 x 400 mm M block fenders between the main deck and the knuckle. Two steel half pipe fenders with elements of 400 x 400 rubber "D" fender provides protection at the main and foc'sle deck sheer lines, providing a section of "outset" fenders to act as a lifting point for the tug when alongside an attended ship. A 500 x 250 cylindrical fender is used at the stern. In addition, heavy duty tires are provided all around the vessel.
For ship-handling service in LNG terminals, the tug is fitted with a safety system which includes gas detection alarms in the wheelhouse, sensors around the deckhouse, and explosion-proof motors for air intake fans on main deck and deckhouse.
On trials, the Jin Gang Lun 26 exceeded all contractual performance requirements with the following results:
Bollard Pull, ahead:
Free running speed, ahead:
- 80 tonnes
- 14.3 knots
The tug also demonstrated excellent performance in directional stability, manoeuvrability and control in all operations, to the expressed delight of the Owner's representatives, and the Sea Trial Masters.
For more information on the RAmparts 3500 Class tugs, or any other high-performance vessel designs developed by Robert Allan Ltd., please contact .