June 27, 2022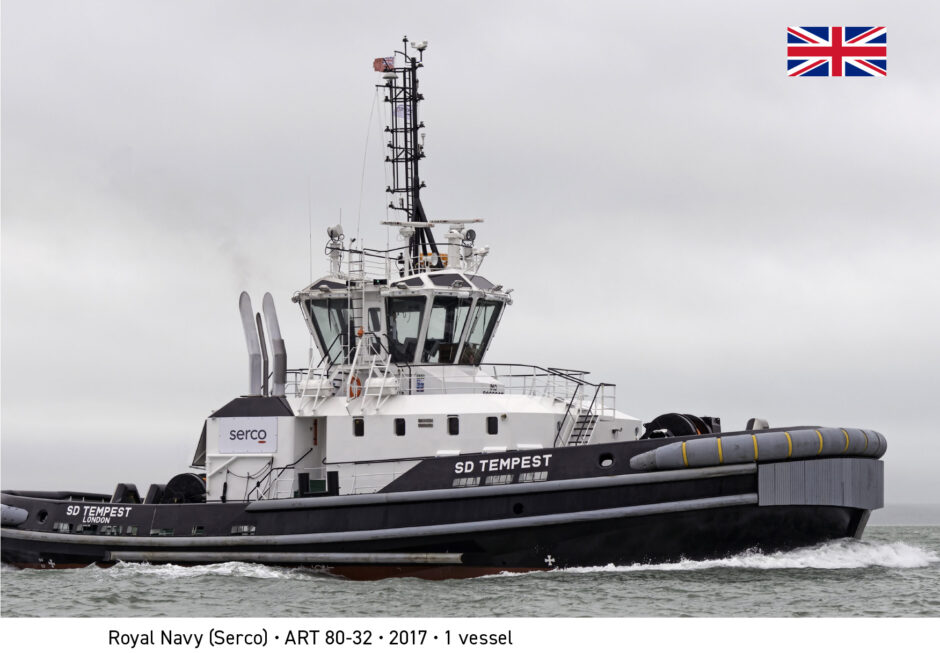 by Evan Gatehouse, P.Eng., Rollie Webb
Robert Allan Ltd. has been designing tugs for many years; for many different purposes and for innumerable different owners. Though relatively few in total, this does include a fair number of tugs for various navies, in Canada and elsewhere.
Navy tugs have special requirements. The hull plating and structure on modern warships isn't the heavy armour of old battleships. Instead, it's usually as light as possible – much lighter than a typical bulk carrier or tanker. Accordingly, fender pressures must be low to avoid damaging the warship's hull. This can be a challenge with a high-powered tug, so total power is often less than in similar sized commercial tugs.
Navies are also concerned about appearances. Dark black fender scuff marks on the paint are just not acceptable, so most navy tug designs will use non-marking grey fenders or even rope or coir fenders to avoid this issue.
Warships like aircraft carriers with large amounts of flare and large overhangs need a tug that can get close without hitting the tug's superstructure. Tugs like the Robert Allan Ltd. Z-Tech® design are particularly well-suited for this purpose with a wheelhouse set well aft, and with folding masts and antennas to allow close-in work.
Some of our navy tugs have hydraulic telescoping gangways to allow crew transfers to low freeboard submarines. These stow aft of the wheelhouse.
And finally, many navy tugs perform the unique operation of moving submarines. To protect the special sound-adsorbing tiles that cover a submarine's outer shell, they have extensive underwater fendering systems and guards near their Z-drives to prevent contact.
Our work with naval tugs began in 1971 with the five Ville-class harbour tugs built for the Royal Canadian Navy. These 45 foot, 335 bhp single-screw tugs are based on the East and West Coasts of Canada and are still in active service 50 years later. Much later, for the US Navy, we designed the Z-Tech® 27-45 tugs (27 metres LOA, 45 ton BP). Six of these were built in 2008-2012, and proved so successful that the US Navy has just acquired six more, with modifications to suit modern emission requirements and other minor upgrades. The final tug is currently being delivered by the Dakota Creek Industries Inc. shipyard in Washington state. Two smaller 18 m RAscal 1800-Z are also under construction.
Robert Allan Ltd. has also recently provided tug designs for the Navies of Thailand, Bangladesh and the Philippines, ranging in size from 27 to 32 metres.
The Robert Allan Ltd. designed ART 80-32 Tempest is now in service providing service to UK's Royal Navy – and is tasked with towing their new aircraft carriers Queen Elizabeth and Prince of Wales as well as other Royal Navy vessels.
And most recently, after much deliberation, the Royal Canadian Navy selected a "commercial off the shelf" (COTS) design, the RAmparts 2400-W, with modifications to suit their specific requirements including docking their large new joint supply ships. Four tugs of this very successful design are under construction at the Groupe Océan Shipyard in Quebec, with first deliveries scheduled for late 2022.
Tugs are working vessels, first and foremost. Whether commercial or navy, their job remains the same: Make every day count, make every move safe and meaningful, and always be ready.