August 28, 2018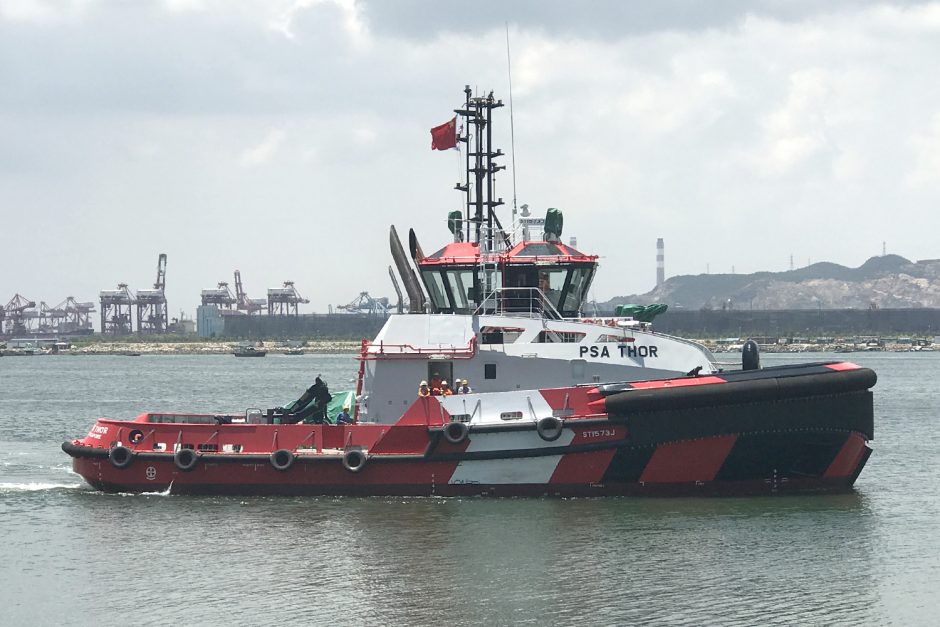 In August, 2018, PSA Marine Singapore took delivery of RAmparts 3200 ASD tugs PSA Thor and PSA Hulk of Robert Allan Ltd. design, built at PaxOcean Engineering Zhuhai Co., Ltd. This evolved RAmparts hull form is developed to provide ship assist in the berthing and un-berthing operations in ports/terminals and also coastal towing operations. Tugs of this design are capable of escort service as well. A special uniquely styled deckhouse and wheelhouse developed for PSA Marine exclusively, brings outstanding and appealing appearance. PSA Thor and PSA Hulk are additions to PSA Marine's existing fleet which includes Robert Allan Ltd.-designed tugs of six RAmparts and twelve Z-Techs.
Particulars of PSA Thor and PSA Hulk are:
Length Overall: 32.0 m
Beam, moulded: 12.0 m
Depth, moulded: 5.42 m
Maximum draft: 5.53m
Gross Tonnage: 496
The tugs were designed and constructed to satisfy all applicable Rules and Regulations of
LR *100 A1 Tug, Escort Tug, Fire Fighting Ship 1 with Water Spray, *LMC, UMS, IWS
Tank capacities are as follows:
Fuel Oil: 200 m3
Potable Water: 32 m3
Trials results were as follows:
Bollard Pull, ahead: 82 tonnes
Bollard Pull, astern: 78 tonnes
Free running speed, ahead: 12.5 kn
The vessel has been outfitted to the highest standards for a normal operating crew of four. The Master and chief engineer's cabin are located on the main deck, with four additional double crew cabins located on the lower accommodation deck. There is also a galley and mess room located on the main deck.
The deck machinery comprises a Rolls Royce heavy duty render/recover escort towing winch on the bow, spooled with 220 m soft line on working drum plus 150 m spare line on the second drum. There is also a Rolls Royce towing winch on aft deck with a capacity of 720 m of Ø52 mm steel wire rope.
The large area of aft deck provides capability of loading deck cargo. The aft end of bulwark is opened for coastal towing service.
Main propulsion for each tug comprises a pair of Caterpillar 3516C diesel engines, each rated 2,525 kW at 1800 rpm, and each driving a Schottel SRP 510FP Z-drive unit, with a 2800 mm diameter fixed pitch propeller.
The tug is fitted with a classed Fire Fighting 1 system from FFS, driven off the starboard main engine.
The electrical plant consists of two (2) identical Cummins QSM11-M diesel gen-sets, each with a power output of 220 ekW, 50 Hz.
Ship-handling fenders at the bow consist of one tier of 800 OD x 400 ID cylindrical fender at the main deck level, with 480 x 300 W-Block fenders between the main deck and the knuckle, and 300 x 300 hollow D style fenders along the sheer lines of main and forecastle deck, stem and skeg. 400 OD x 200 ID fendering is used at the stern.
For more information on the PSA Thor and PSA Hulk or any other high- performance vessel designs developed by Robert Allan Ltd., please contact design@ral.ca.