March 30, 2017
The pilot boat Kara Yusuf, named after the Owner's grandfather, went into service on March 4, 2017 in Turkey. The boat will provide pilot transfer service in the southwest region of the Marmara Sea. Designed by Robert Allan Ltd., of Vancouver Canada, the boat was built by ICDAS Shipyard in Turkey for their own use as well as for marketing to the pilotage industry. Designated as the RAlly 1600 class, the 16 m boat is constructed with a steel hull and aluminum deckhouse. Two 650 hp Scania DI13 engines driving duplex stainless steel shafts and 5-bladed propellers by Michigan Marine Propulsion provide a top speed of 20 knots with excellent seakeeping and manoeuvrability. The engines are resiliently mounted and drive rigidly-mounted Twin Disc MGX-5095SC Quick Shift gearboxes via Vulkardan E flexible couplings. A pair of Cummins Onan generators provide electrical power. Although the engines are under the deckhouse, a large hinged hatch located immediately aft of the house enables easy removal of a main engine or a generator without dismantling any outfitting in the house. Also located at the back of the house is a generous machinery ventilation system enabling the boat to operate in tropical regions.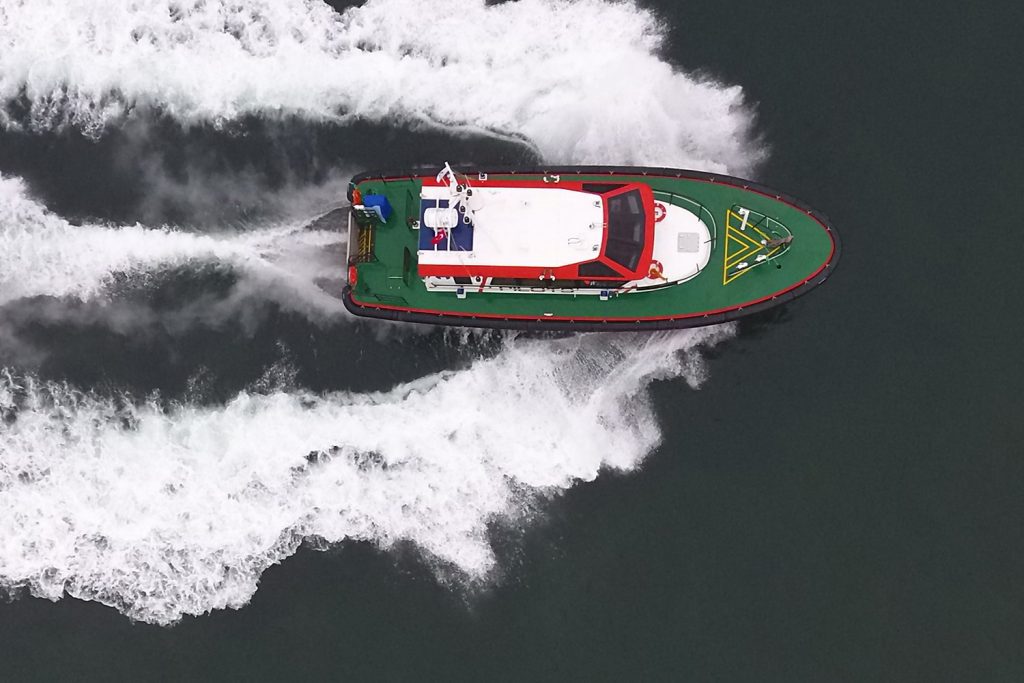 Particulars
Length, overall: 16.4 m
Beam: 5.0 m
Depth: 2.3 m
Draft: 1.7 m
Power: 1300 hp
Speed: 20 knots
The boat is classed by Bureau Veritas and complies with Turkish flag state regulations.
The boat is fitted with four fuel tanks totalling 6,800 litres capacity, providing excellent range and trim control. Soft polyethylene foam core fenders with 8 mm polyurethane shell were supplied by Ocean3 of France. A harness track system by Marine Safety Solutions is installed for the safety of pilots and crew in rough weather. For rescue operations a hinged platform is fitted at the transom and an outside aft control console provides excellent on-the-spot visibility of the stern area. Marine windows all around as well as overhead are bonded to the outside surface of the aluminum house for a smooth, modern appearance.
The steelwork and varnished wood interior finish is top notch. There is seating for 4 pilots in the deckhouse plus 2 crew as well as a pantry area with 4-person dinette. The forward cabin has berths for 2 plus a washroom and separate shower space. Interior partitions and cabinet work is in aluminum honeycomb light weight panelling.
An all-aluminum version as well as a waterjet propulsion version of the RAlly 1600 will soon be available.
For further information on the RAlly 1600 or other pilot or patrol craft designs by Robert Allan Ltd. please contact: design@ral.ca
General Arrangement