November 29, 2016
With the November 9th naming ceremony of the 2nd and 3rd ART 100-42 Class Infield Support Vessels (ISVs), all three of the world's first purpose-designed and purpose-built FLNG ISVs have now been delivered by ASL Shipyards Singapore to Owner's KT Maritime Services Australia Pty Ltd. (a joint venture of KOTUG International B.V. and Teekay Shipping Australia Pty Ltd). Designed by Robert Allan Ltd., Naval Architects of Vancouver, the vessels are named RT Beagle Bay, RT Roebuck Bay, RT Kuri Bay, after bays in Western Australia that the vessels will sail past enroute from their home port in Broome to Shell's Prelude FLNG facility off northwest Australia.
These three innovative Rotortug® vessels are modern high performance tugs custom designed to meet Shell's demanding requirements. The vessels will be tasked with servicing Prelude's LNG, LPG and condensate export activities, as well as forming an integral part of the facility's security, emergency response, and evacuation requirements. Tasks will include escorting and berthing LNG carriers, condensate tanker tow-backs, pilot transfer, floating hose handling, as well as playing an integral part in security, emergency response, rescue, and evacuation requirements.
High environmental standards required all fuel oil, lube oil, and other pollutants to be located off the shell. This was an extremely challenging requirement for a 42 m vessel with fore and aft propulsion systems coupled with the very high fuel oil and fresh water capacity required for a 35 day offshore endurance, with reserve. Additionally, the vessels will operate in significant environmental conditions. Thus, the Robert Allan Ltd. RAstar style hull form was selected due to its proven seakeeping performance in high sea states. The RAstar hull form provides considerable reduction in motions and accelerations compared to more standard wall-sided hull forms.
An extensive model testing program and computer based Computational Fluid Dynamics (CFD) analyses were conducted to verify performance and to optimize many aspects of the design including hull shape, propulsor arrangement, and appendage arrangement.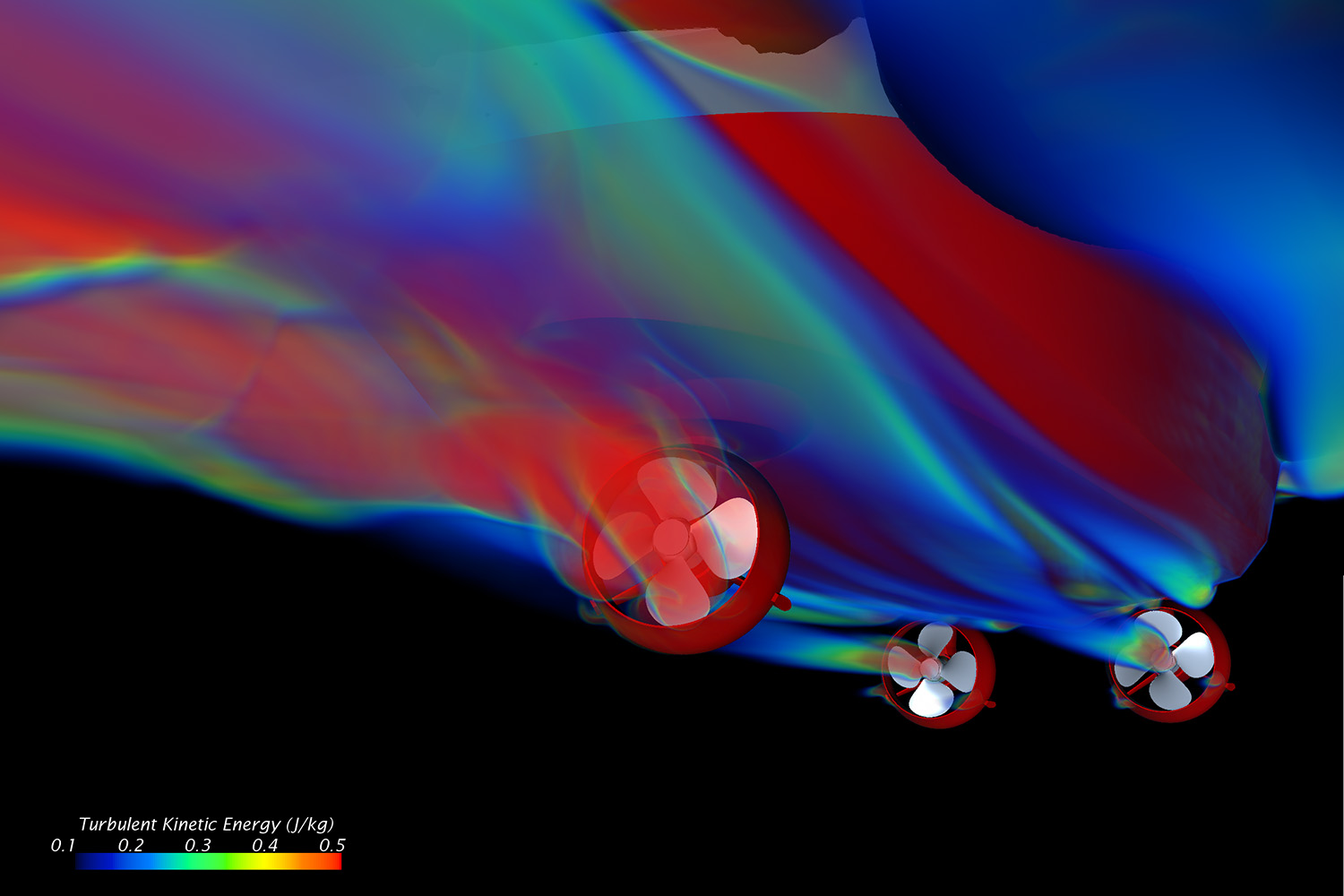 Particulars of the ART 100-42 are as follows:
Length: 41.95 m
Beam: 16.00 m
Depth (Least Moulded): 6.60 m
Load Line Draft: 7.9 m
Deadweight: 612 tonnes
GT: 1133
Capacities:
Fuel oil: 445 m³ @ 95%
Fresh water: 73.2 m³ @ 100%
Foam: 5.7 m³ @ 100%
Dispersant: 5.7 m³ @ 100%
Grey Water: 15.6 m³ @ 100%
Black Water: 15.6 m³ @ 100%
Fresh water capacity: 32.8 m³ @ 100%
Propulsion and Generating Machinery:
Three Main Engines Niigata 6L28AHX rated 2220 kW @ 800 RPM (IMO Tier II Compliant)
3 x Niigata ZP 21 Z-drives (2 forward, 1 aft) with 2.7 m fixed pitch propellers and idle slipping clutches
3 x CAT C9 ship service gensets providing 200 ekW @ 1500 RPM
1 x CAT C4.4 emergency, radiator cooled, genset rated 82 ekW @ 1500 RPM
Deck Machinery:
Kraaijeveld electric bow escort towing SafeWinch model KASW-30-E-TR/28/28 featuring split drum, two wildcats, single warping head, spooling gear
Kraaijeveld electric aft escort towing SafeWinch model KASW-30-TR featuring single drum with capacity of 350 m of 80 mm synthetic rope with spooling gear
Kooiman rectractable towing fairlead ("Omega pin")
Koiiman delta pins with chain stopper for hose handling
50 t-m deck crane
Two 10 tonne tugger winches
5 tonne vertical capstan
Emergency Response Features and Arrangements:
FIFI 1 equipment includes a single 2850 m³/hr pump driven off the Port main engine, 2 x 1200 m³/hr monitors, water spray, as well as foam system capability of 300 m³/hr from the staboard monitor.
Norsafe, 6.55 m, jet propelled "Mako" fast rescue craft with Redrock luffing davit
Dacon scoop
Dacon scramble net
6 x 50 person inflatable life rafts
Decontamination arrangements
Treatment room
Large survivor reception hall Survivor space suitable for 85 persons
Gas incident alarm and protection system
The vessels are very heavily fendered for the expected high swells that may be present during pilot transfer and other operational duties. Ship-handling fenders at the bow comprise an upper row of 1000 mm diameter cylindrical fender and a lower course of W-fender. Sheer fenders consist of 1 m tall by 450 mm thick W-fender. Stern fenders either side of the open bulwark comprise an upper row of 1000 mm diameter cylindrical fender and a lower course of W-fender.
Crew accommodations are arranged with 8 MLC compliant cabins on the main deck and focsle deck. One spare cabin is arranged that is also designated as a recovery room for four survivors and is connected to the Treatment Room. The main deck also contains the galley and mess, generous dry and cold store rooms for the galley, and laundry. On the lower deck, the survivor space doubles as a recreation room. The wheelhouse features both fore and aft control stations providing the best possible visibility for day-to-day ship handling, hose handling, and pilot transfer as well as for emergency operations such as FRC deployment and Dacon scoop rescue.
The vessels have been constructed to Lloyd's Register Class requirements with the following notation: LR ✠100A1 TUG, ✠LMC, UMS, IWS, Fire-Fighting Ship 1 (with water spray)
On trials, the ISVs achieved essentially equal ahead and astern speeds of over 12 knots, sidestepped at over 6 knots, and produced over 100 tonnes of bollard pull in both ahead and astern directions.
The innovative ART 100-42 Rotortug® ISVs custom designed for FLNG support, and fitted with unique rotortug propulsion configuration, makes them an ideal tool for support services at FLNG facilities. The RT Beagle Bay, RT Roebuck Bay, RT Kuri Bay will play a critical role ensuring safe and efficient infield support services at Prelude FLNG.
For more information on the ART 100-42 Class tugs, or any other high-performance vessel designs developed by Robert Allan Ltd., please contact design@ral.ca.
General Arrangement