September 23, 2014
In the summer of this year, Signet Maritime took delivery of Signet Arcturus and Signet Polaris, the 8th and 9th tugs designed for them by Robert Allan Ltd. of Vancouver, Canada to add to their fleet of 37 conventional and ASD vessels. The tugs were constructed at Patti Marine Enterprises in Pensacola, Florida.
These tugs are based on the Signet Weatherly design, but with additional power and higher bollard pull. The vessels are intended for multi-disciplinary work including offshore support, towing, ship-assist, ship escort, subsea and rig moves. A number of design modifications were incorporated from the original design to increase the vessel's capabilities for this multi-disciplinary work.
Signet Arcturus and Signet Polaris are of the RAmparts 3200 Class Z-drive tug design from Robert Allan Ltd., a series of customizable well-proven designs which is extremely popular and successful, with now well over 100 of this class in service worldwide.
Particulars of the Signet Arcturus and Signet Polaris are as follows:
Length Overall:
Beam, Moulded:
Depth, Moulded:
Maximum Draft (overall):
Power:
-105'
– 38'
– 18'-2"
– 19'-5"
– 2 x 3420 bhp
(32.00 metres)
(11.6 metres)
(5.5 metres)
(5.9 metres)
(2 x 2550 kW)
The tugs are classed by American Bureau of Shipping, with the following notations:
✠ A1 Tug, Towing Vessel, ✠ AMS, Fire Fighting Vessel Class 1, Escort Vessel
The tugs are also USCG inspected vessels built under USCG Subchapter-I (NVIC 10-82), and are SOLAS compliant.
On trials, the Signet Arcturus performed exceptionally well, achieving a Bollard Pull of 83.45 Tonnes and a free-running speed of 14.5 knots, both of which exceeded expectations.
Tank capacities (at 98%) are as follows:
Fuel Oil:
Potable Water:
Engine Lube Oil:
– 88,300 Gal
– 5,980 Gal
– 500 Gal
Features of the RAmparts 3200 design include a large aft working deck to facilitate towing and rig assist operations; and a half-raised forecastle running nearly half the length of the tug to provide a high standard of accommodation and outstanding sea-keeping capability for operation in exposed conditions.
The general layout of the tug is illustrated in the accompanying General Arrangement drawing.
The vessel has been outfitted to the highest standards for a crew of up to ten (10) people. The main deck features generous Master's and Chief Engineer's cabins each with en-suite facilities, and a common Mess/Lounge area, served by a modern, fully-equipped galley. The lower deck contains two x double crew cabins, and one x four-person crew cabin with en-suite or shared facilities respectively. In addition there are galley and deck store rooms, and laundry facilities. The wheelhouse is designed for maximum all-round visibility with dual control stations, one forward and one aft, providing maximum visibility to all working deck areas. The noise levels throughout the accommodation and control spaces of the tug are in the vicinity of 60 dBA, achieved by utilizing advanced methods of isolating main propulsion machinery, as well as high grade insulations and floating floor techniques.
Main propulsion for these tugs comprises a pair of Caterpillar C175-16 diesel engines, EPA Tier 3 certified, each rated 3420 bhp at 1800 rpm, driving a Rolls Royce US255 CP Z-drive unit with a 2800 mm diameter CP propeller in ASD configuration. The indirect escort steering force, yet to be exercised at full-scale, is estimated at 85 tonnes at 10 knots.
The electrical plant comprises two (2) identical diesel gen-sets, each with a John Deere 6068AFM76 drive engine with a rated 480V output of 125 ekW at 60 Hz, both EPA Tier 3 certified.
Fire-fighting is to ABS Fi-Fi 1 Class, using FFS 250x350XP pumps, driven off the front end of the main engines, and FSS1200 LB Monitors.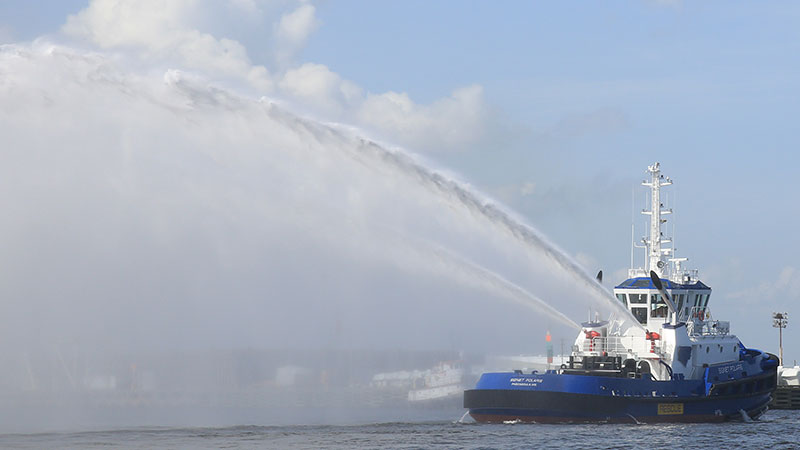 The main hawser winch forward is a Markey DEPCF-52S 75hp electric winch, containing 650 ft. of 3" diameter Samson Saturn-12 towline. Aft is a Markey TESD 34, double-drum, 100 hp towing winch, which carries 2500 ft. of 2 ¼" wire on the starboard drum and 1500 ft. of 2 ¼" wire on the port drum.
Ship-handling fenders at the bow consist of a 32"OD x18" ID cylindrical fender above a row of 14" thick 'M' fenders. A 14"x14" hollow "D" fender provides protection at the main and foc'sle deck sheer lines, and "M" block type fendering is used again at the stern, with full length rolling chocks on port and starboard sides.
For more information on these or any of the RAmparts 3200 Class tugs, or other high-performance terminal or escort tug designs, please contact us at design@ral.ca.