May 9, 2013
The Pilbara Apollo, the latest addition to the RAstar 3200 escort tug series was delivered to its owners, Rio Tinto Ltd. earlier this year. The vessel was constructed at Uzmar Shipbuilding Industry Co. in Turkey and will operate at Rio Tinto's iron ore export facilities at Cape Lambert (Port Walcott) and Dampier, Australia. The Pilbara Apollo is the first of six new RAstar 3200 tugs to be delivered to Rio Tinto as part of this contract. These tugs will assist very large ore carriers in berthing and un-berthing at exposed, open water berths in severe wind and wave conditions.
The unique sponsoned hull form of the RAstar Series vessels gives these new tugs a level of safety and comfort that will enable operation in conditions that were previously deemed unworkable. This unique RAstar hull form developed by Robert Allan Ltd. has been proven in both model and full-scale testing to provide significantly enhanced escort towing and seakeeping performance. The motions and accelerations are less than half those of comparable sized, wall- sided "standard" tug hulls.
Particulars of the Pilbara Apollo are as follows:
Length overall:
Beam, moulded:
Depth, moulded (hull):
Navigational draft (DWL):
– 32.00 m (excluding fenders)
– 12.80 m
– 5.37 m
– 6.03 m
Pilbara Apollo was classed by Bureau Veritas during construction, but will be converted to Lloyd's Register once in Australia. Tank capacities are:
Fuel Oil:
Fresh Water:
Z-drive Oil:
Sludge:
Oily Water:
Main engine lube oil:
Sewage:
– 129 m³
– 39 m³
– 1.0 m³
– 2.7 m³
– 14.5 m³
– 3.4 m³
– 5.7 m³
On trials, Pilbara Apollo met or exceeded all performance expectations, with the following results:
Bollard Pull, ahead:
Bollard Pull, astern:
Free Running speed, ahead:
– 80.9 tonnes
– 77.0 tonnes
– 14.0 knots
Main propulsion for each tug comprises a pair of CAT 3516C HD diesel engines, each rated 2350 kW at 1800 rpm, and each driving a Rolls Royce US255 Controllable Pitch Z-drive unit.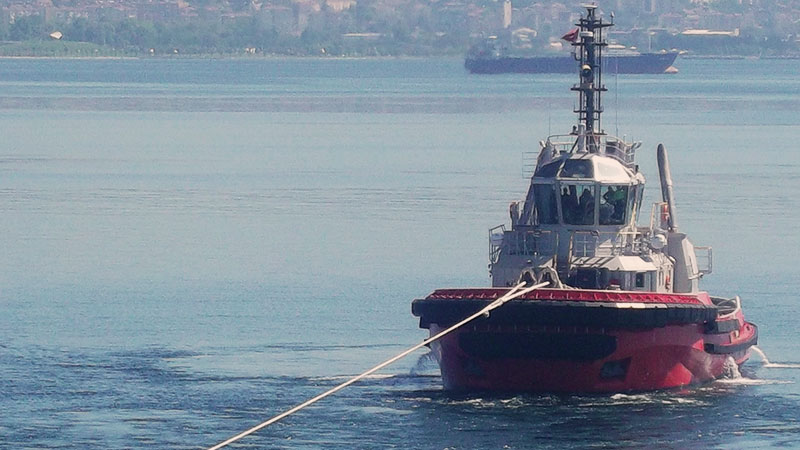 The hydraulic deck machinery, all from Ridderinkhof, consists of a split-drum escort hawser winch on the foredeck, and a single drum towing winch aft.
The electrical plant consists of two CAT C6.6 diesel gen-sets, each with a power output of 100 ekW. The vessel has been outfitted to the highest standards for a crew of up to 6 people. The lower deck contains crew quarters and the Master and Chief Engineer staterooms. The wheelhouse is designed for maximum all-round visibility with a forward control station providing maximum visibility to both fore and aft deck working areas.
Ship-handling fenders at the bow consist of two rows of 1,000 mm deep, 1,400 mm wide custom designed "W" fenders. Extruded hollow 300 x 300 square section rubber fenders provide protection at the main sheer line, and 500 mm wide by 450 mm deep "W" block type fendering is used at the stern. The fendering system was devised by the Owner's representative Neil Edwards, working in close cooperation with the design team at Robert Allan Ltd. and the fender suppliers, Maritime International. The fendering system was subject to extensive FEA analysis to verify the responses and loads. Early indications from the operators are that this solution will perform very well in the rough sea conditions.
For more information on RAstar 3200 Class Escort tugs or any other vessel designs from Robert Allan Ltd., please contact us at design@ral.ca.