August 23, 2012
The Z-Tech®® 6500, ICDAS 19 has been successfully delivered to ICDAS Port Operations, by sister company, ICDAS Shipyards. This vessel was conceived, constructed and will be operated entirely in house under the parent company; ICDAS Celik Enerji Tersane ve Ulasim A.S, in Turkey.
The Z-Tech® 6500 is a unique Class of ship-handling tug designed to provide a combination of the superior handling characteristics of an ASD tug with that of a Z-drive tractor. This vessel design builds on the successful experience of the previous Z-Tech® Series tugs built for operation across the world.
The Particulars of the ICDAS 19 are as follows:
Length overall
Beam, moulded, extreme
Depth, moulded (hull)
Design draft
Gross Tonnage
Power Bollard Pull
– 27.40 metres
– 12.20 metres
– 5.05 metres
– 3.80 metres, approximate
– 369 – 2 x 1920 kW @ 1800 rpm
– 65.0 tonnes
Tank Capacities are as follows:
Fuel oil
Fresh water
Main engine lube oil
Auxiliary engine lube oil
– 100 m³
– 10 m³
– 2.0 m³
– 0.5 m³
The ICDAS 19 was built and classed to Class NK (Nippon Kaiji Kyokai) notation of:
NS* (CS) (TUG) / MNS*
The vessel has been outfitted for a compliment of up to six people.
The Deckhouse contains a high level of luxury, with overnight cabins for the Master and Chief Engineer with individual ensuite facilities, and a pair of double berth cabins for the deck crew. Galley facilities and a comfortable mess room, allow 24 hour operations to be conducted. The wheelhouse is designed for maximum all-round visibility from driving positions and to both fore and aft deck working areas.
The deck machinery comprises a 35 tonne line pull, hydraulic winch, with a maximum brake holding capacity of 130 tonnes. Similarly located at the "bow" of the vessel is a single, remotely operated fire monitor rated at 1200 m³/hr, supplied by a main engine driven pump. Incorporated into this system are 4 additional 2" hydrants. This provides the vessel with an external fire-fighting capability commensurate with its operation as a superior ship berthing tug.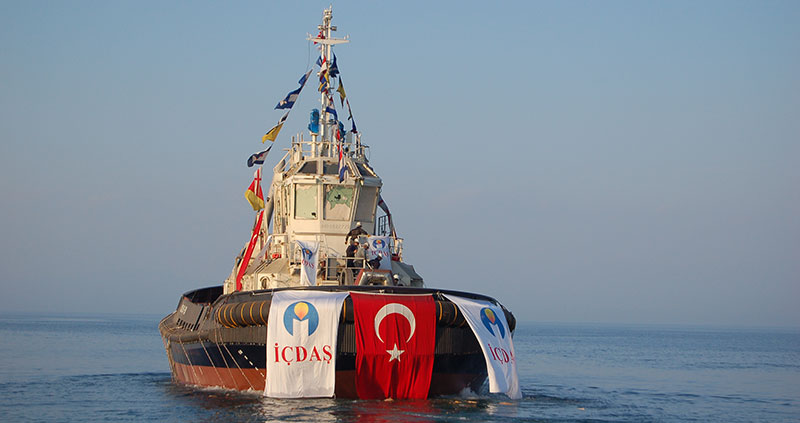 Ship-handling fenders at the bow comprise of; a single row cylindrical fender of 800 mm diameter (400 mm core) and a 300 mm deep "W" fender mounted beneath. A 300 x 300 hollow "D" fender protects the main and foc'sle deck sheer lines, and at the stern is a second cylindrical fender of 400 mm diameter (200 mm core).
Main propulsion for each tug comprises two MTU 16V4000M63 engines; each rated 1920 kW at 1800 rpm, driving a pair Rolls-Royce US 205 FP azimuth thruster.
The electrical plant comprises of 2 identical DEUTZ generating sets, each with a capacity of 122 ekW at 1500 rpm (140 kVa, 400 volt, 50 Hz).
On trials, ICDAS 19 met or exceeded all performance expectations, with the following results:
Bollard Pull, (astern)
Speed at 83% MCR (full prop/engine rpm)
Fuel consumption (full prop/engine rpm)
Endurance
– 65 tonnes
– 13.7 kts
– 23.4 m³/day at 100% MCR
– 5 days at full power

The Z-Tech® class tugs are designed for operation in major ports and marine terminals. The design emphasizes the safe and capable execution of ship-handling operations with large ships, particularly those with extreme flares. The design has also lent itself very successfully in the role as a tender for the US Navy, with both surface and sub-surface ships. The Z-Tech® design offers omni-directional performance; speed and Bollard Pull astern are almost equal to that going ahead.
For more information on the ICDAS 19 or otherZ-Tech® Series vessels, or any other designs please contact us at design@ral.ca.