August 13, 2012
Zamil Offshore Services have recently completed the construction of a series of three Robert Allan Ltd. designed RAmparts 3200-W tugs. The RAmparts 3200-W class are powerful ship-handling/terminal support tugs designed act as harbour, escort, pollution control and fire-fighting tugs, and will assist in mooring, unmooring and all maintenance requirements in the ports of the Kingdom of Saudi Arabia, in both the Red Sea and Arabian Gulf waters. The Saudi Ports Authority, owner of the Ras Alkir 1, Ras Alkir 2 and Ras Alkir 3, has taken delivery all three tugs.
Robert Allan Ltd. worked closely with Zamil to establish the final specification and vessel layout for the demanding service of this tug. The hull form reflects the now well-proven double chine form that characterizes all Robert Allan Ltd. designs, with a sweeping chined stern. A large escort skeg is fitted forward to enhance the indirect towing capability and to provide enhanced roll stability.
The principal particulars of the Ras Alkir 1 and its sisters, the Ras Alkir 2, and Ras Alkir 3 are as follows:
Length BP
Beam, Moulded
Depth, Moulded
Maximum Draft
Power
– 31.00 metres
– 12.00 metres
– 5.36 metres
– 5.20 metres
– 4720 kW total
The vessels have been built and classed to American Bureau of Shipping notations:
✠ A1, , Towing Vessel, Fire-fighting Vessel Class 1, Ⓔ AMS, ABCU, Unrestricted Navigation
The propulsion machinery consists of a pair of Yanmar 8EY26 medium speed diesels, each producing 2,360 kW at 750 rpm. This power is transmitted via two Kawasaki KST-220ZC/B Rexpellers. On trials, Ras Alkir 1, Ras Alkir 2 and Ras Alkir 3 met or exceeded all performance expectations with the following results:
Bollard Pull Ahead
Bollard Pull Astern
Free running speed, at full rpm
– 72 tonnes
– 67 tonnes
– 13.5 knots
To enable extended endurance at sea, the vessel has the following tank capacities:
Fuel
Potable Water
Ballast
Foam
Detergent / Dispersant
Recovered Oil
Oily Water
Dirty Oil
Sewage
– 192.6 m³
– 26.4 m³
– 34.8 m³
– 10.6 m³
– 8.1 m³
– 10.1 m³
– 5.8 m³
– 8.1 m³
– 10.2 m³
The Ras Alkir 1, Ras Alkir 2 and Ras Alkir 3, illustrated in the accompanying General Arrangement has the following design features:
Bridge Deck:
Wheelhouse: arranged to provide maximum all-round visibility, with overhead viewing windows, a split console forward, from where most of the driving is conducted, and a centre console facing aft, with fire-fighting controls and a similar driving position
A chart table is located to Port, and a communication station is located on the lower level of the wheelhouse, similarly to Port
Main Deck:
Deck locker: outfitted with shelving to store hoses, fittings, rescue equipment, SCBA air-packs, etc. commensurate with Class notation of FiFi 1
Mess / Lounge / Galley: comfortable seating area with television and an area for the crew to enjoy a meal between shifts
Flush-mounted, machinery access/removal flush hatch
Accommodation: cabins for Master and Chief Engineer, with private facilities
Below Main Deck:
Accommodation: lavatory facilities suitable for the crew of 6, a laundry, HVAC Room and access to the Engine Control Room and then to the Engine Room
Owners Stateroom: a comfortable single berth cabin, with ensuite, specifically set aside for an Owners representative
The RAmparts 3200-W is designed for maximum efficiency in the performance of ship-handling, escort, and related terminal support activity services. The vessel is equipped with a hawser winch, towing hook, forward, with heavy bow fendering for ship-assist and escort work. A towing hook and capstan are fitted aft for secondary towline duties. The RAmparts Series tugs are a proven, standardized Z-drive tug design. Each design is developed from a successful prototype vessel or series of vessels, and refined to emphasize ease of construction, and the Owners specific requirements.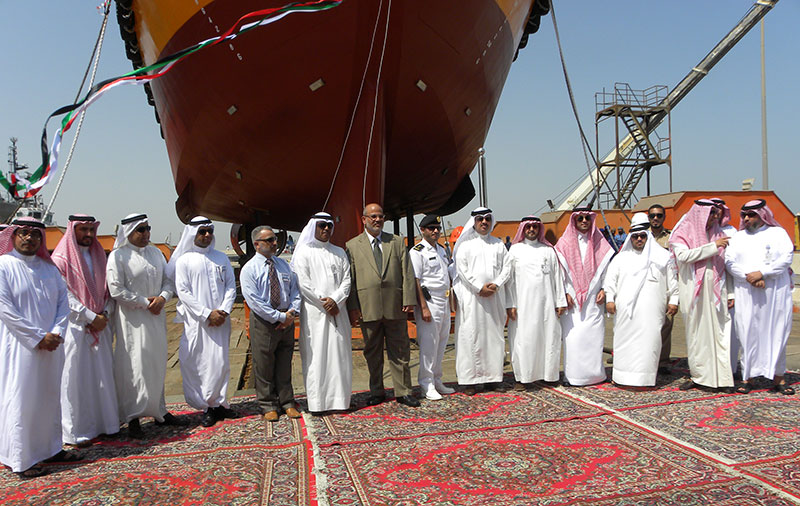 These RAmparts 3200-W tugs are designed to perform a wide variety of tasks such as:
Ship-handling
Escort
Anchor handling operations
Diving support
ROV support
Offshore personnel transfer
Safety or standby support
Rescue and salvage towing operations
Oil spill response
Off-Ship fire-fighting operations
Delivery of cargo to offshore drilling and production rigs that can include containers, various type of deck cargo, fuel oil, drilling water and potable water.
For more information on the Ras Alkir 1, Ras Alkir 2 and Ras Alkir 3, other RAmparts Series vessels, or any other designs please contact us at design@ral.ca.