September 18, 2009
In July, 2009 Tug Malta, a subsidiary of Rimorchiatori Riuniti of Genoa, Italy, took delivery of the tug Spinola, the latest AVT 36/80 Class tug designed by Robert Allan Ltd. of Vancouver, Canada. The vessel was built by Astilleros Armon of Navia, Spain. This vessel is the second in a series built for this Owner, but this edition incorporates a number of significant changes from the previous vessel of this class, Messico.
The Spinola was classed by RINA, and will be suitable for a wide range of duties including harbour towage and ship-handling, coastal towing, salvage and escort operations and, rather uniquely for a VSP tug, is also equipped for heavy duty anchor-handling. The tug is also fitted out for firefighting and oil spill response duties.
Particulars of this AVT 36/80 Class, Voith- propelled tug are as follows:
Length Overall
Beam, Moulded
Depth, Moulded
Navigational Draft:
– Harbour Operations
Power
– 36.65 metres
– 13.60 metres
– 4.80 metres- 6.1 metres
– 5,280 kW
The tank capacities are as follows:
Fuel Oil
Reserve Fuel Oil
Potable Water
Engine Lube Oil
VSP Oil
Fi-Fi Foam
Dispersant
Recovered Oil DWT at Loadline Draft
– 194 cubic metres
– 96 cubic metres
– 74 cubic metres
– 8.7 cubic metres
– 10 cubic metres
– 18 cubic metres
– 2 cubic metres
– 233 cubic metres
= 410 tonnes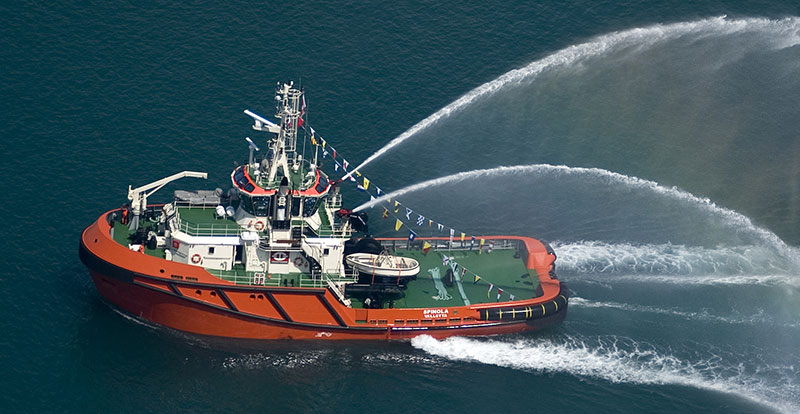 Design features of the AVT 36/80 Class tug include a large aft deck to facilitate oil recovery operations, a removable escort towbitt to ensure a clear deck during non-towing activities, and oil dispersant spray capabilities. This second tug of the series incorporates some significantly different features specifically to enable the anchor-handling function. These include different, wider stern lines to incorporate a 3500L x 1300D stern roller, a set of flush-mounted tow-pins and shark-jaws, and additional tugger winches. The aft deck is heavily reinforced for anchor impacts, and the entire deck is rated for a UDL of 5 tonnes /sq.m. The design features a full raised forecastle running nearly half the length of the tug to provide a high standard of accommodation and the best possible sea-keeping capability for operation in exposed conditions. The general layout of the Spinola is illustrated in the General Arrangement Drawing attached as Figure 1.
The vessel has been outfitted to the highest standards for a crew of up to 14. The main deck accommodation includes three (3) two-person cabins, four (4) one-person cabins, a galley, mess, galley stores, workshop, oil lab, locker room/lobby, and deck store. The deckhouse at forecastle deck level includes four (4) one-person officer cabins. The wheelhouse is designed for maximum visibility with a single control station providing maximum visibility to both fore and aft deck working areas, with the emphasis on the aft deck. The lower deck includes engineer's stores and laundry facilities. All cabins are of a generous size, and boast en-suite lavatory facilities. The noise level throughout the crew accommodation was recorded in the range of 60 dBA, achieved through utilization of advanced methods of isolating main propulsion machinery, as well as high grade insulations and floating floor techniques.
Main Propulsion for the AVT 36/80E comprises a pair of MaK 8M25 diesel engines, each rated 2,640 kW at 750 rpm, and each driving a Voith model 32R5-265-2 cycloidal propeller in tractor configuration. On trials this combination delivered a sustained Bollard Pull of 81.6 tonnes, and a free running speed of 14.1 knots. The indirect escort steering force is estimated at 115 tonnes at 10 knots, and indirect braking estimated at 147 tonnes at 10 knots.
The operating range at economical cruising speed is estimated at 3,000 nautical miles (minimum).
The electrical plant is comprised of three (3) identical diesel gen-sets, each with a 380 volt/50 Hz power output of 125 kW.
Fire-fighting is to Fi-Fi 1 Class, complete with water spray and dewatering eductor.
The main towing winch is a waterfall-style, double drum type, with single horizontal warping head. The upper drum is capable of storing 1,000 metres of 56 mm steel wire rope. The lower drum is a split configuration with a 250 metre synthetic hawser for escorting, and a 150-metre synthetic line for harbour towing. The anchor windlass, in a horizontal axis configuration is fitted with two (2) chain wildcats and two (2) warping heads, which are clutched separately. The hold contains a hydraulically powered storage reel for storing up to 1,000 metres of spare 56 mm steel wire rope.
Towing flexibility is enhanced by the inclusion of an 80-tonne, radial arm tow hook, while salvage and general stores/deck operations are aided by inclusion of a 25-tonne-metre knuckle boom crane. Ship-handling fenders at the stern (skeg end) comprise a 900 x 450 cylindrical fender above a row of 450 mm "W" block fenders. A 300 x 300 hollow "D" fender provides protection at the main and foc'sle deck sheer lines, and "W" block type fendering is used again at the bow.
For more information on the AVT 36/80E Class tugs, or other high-performance terminal or escort tug designs, please contact us.