September 15, 2009
In July, 2009 the new RAnger 2000 Class fireboat, City of Portland was delivered to the City of Portland, Maine Fire Department by the builder, A.F. Theriault & Son Ltd., of Meteghan River, Nova Scotia, Canada. The vessel was designed by Robert Allan Ltd. of Vancouver, B.C., who worked closely with the Owner's advisor PK Marine of California to define the Owner's various requirements. Derek Noon was the Project Manager at Robert Allan Ltd. for this new vessel.
The new fast response fireboat was specifically designed to address the fire fighting and rescue/medivac needs of the local port area, and as such has a diversity of roles to fill in the local community.
The City of Portland is of all-welded aluminium construction, including ice-strengthening for local conditions. It has the following particulars:
Length Overall
Beam, Moulded
Depth, Moulded
Maximum Draft (overall)
– 20.0 metres (65′-0″)
– 5.0 metres (16′-5″)
– 2.0 metres (6′-7″)
– 1.3 metres (4′-2″)
The tank capacities are as follows:
Fuel
Fresh water
Sewage
Class A foam
Class B foam
490-gal (US)
66-gal (US)
50-gal (US)
100-gal (US)
60-gal (US)
1850 litres
250 litres
190 litres
380 litres
230 litres
Installed propulsion power is 2 x 454 BHP (2 x 339 kW) from two CAT C-12 main engines. Propellers are 5-bladed, fixed pitch, driven through a pair of ZF model 305-1A reverse-reduction, down-angle gears with a 1.75:1 reduction ratio. With this power plant, the vessel achieved the full load design speed of 18 knots on trials.
The Fire-fighting equipment for this RAnger 2000 Class fireboat comprises the following:
Fire pump

:

Hale model SPM2500DT rated 3000 US gpm (11,300 litres/min), driven by an independent Iveco 530 bhp diesel engine
Fire monitors:

Main elevated monitor

1 x 3000-gpm, remote controlled (11,300-l/min)

Aft monitors

2 x 1500-gpm, manual (2 x 5,680-l/min)

Forward monitors

2 x 1250-gpm, manual (2 x 4,700-l/min)

Aft platform monitor

1 x 500-gpm, remote controlled (1,900-l/min)
In addition there is a foam injection system which can be directed to any selected monitor. The Fi-Fi piping system is Bondstrand FRP piping throughout, for lightweight and corrosion resistance.
The new fireboat, illustrated in the attached General Arrangement drawing and photographs, has the following design features:
A fire-fighting equipment room forward of engine room
A medical centre on main deck, which for reasons of crew training and familiarity completely duplicates a road ambulance in layout
Wheelhouse forward, with Port and Starboard controls
Exterior Flying bridge controls
Exterior aft controls on main deck
A hydraulic-driven bow thruster for close quarters manoeuvring control
Overnight accommodations for the crew in the forecastle
Swim grid and diving platform aft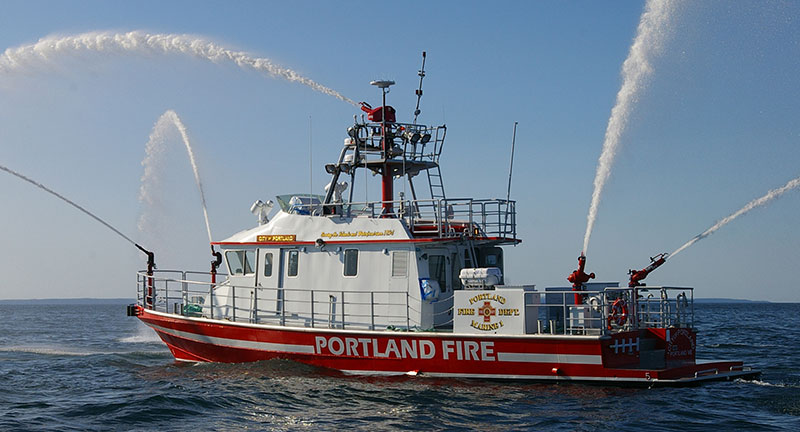 The City of Portland successfully completed its trials in July in the coastal waters of Nova Scotia, after which it sailed under its own power to the north-east coast waters of the US. The vessel commissioning is scheduled for late September, 2009.
For more information on this new vessel, or any other RAnger Series emergency response vessels, please contact us.