May 1, 2009
In late December, 2008 Shipco Marine Constructors Ltd. of Whangarei, New Zealand delivered the first of two (2) new terminal support tugs, the Pilbara Thor to the Owners, Rio Tinto of Australia for service at the Pilbara ore terminal near Dampier, Australia. The vessel entered service in January. The Pilbara Thor is the latest of the RAmparts 3200 Class tugs to be built to this widely accepted design from Robert Allan Ltd., Naval Architects of Vancouver, B.C.
Robert Allan Ltd. worked closely with the Owner's representatives, Trevor Cosh of Trevor Cosh and Associates Pty Ltd. and Neil Edwards of Edwards Marine Services to establish the final specification and vessel layout for the demanding service of this tug. The hull form reflects the now very well-proven double chine form that characterizes all Robert Allan Ltd. designs, with a sweeping "chined" stern. A large escort skeg is fitted forward to enhance the indirect towing capability and to provide enhanced roll stability.
Particulars of the Pilbara Thor are as follows:
Length Overall
Beam, Moulded
Depth, Moulded
Maximum Draft (overall)
Power
– 32.00 metres
– 11.60 metres
– 5.36 metres
– 5.21 metres
– 3672 kW total
The tug is classed by Lloyd's Register of Shipping: ✠ 100A1 Escort Tug, ✠ LMC, UMS, Fi-Fi 1, Unrestricted Service.
On trials the vessel performed exceptionally well, as predicted, achieving a sustained mean Bollard Pull of 70.5 tonnes ahead, and 67.5 tonnes astern at full power and a free-running speed of 12.8 knots ahead and over 12 knots astern.
Tank capacities in this RAmparts 3200 design are as follows:
Fuel Oil
Potable Water
Engine Lube Oil
Fi-Fi Foam
Oily Water
Waste oil
– 136 cu. metres
– 39.9 cu. metres
– 2.3 cu. metres
– 14.7 cu. metres
– 15.4 cu. metres
– 9.7 cu. metres
Features of the RAmparts 3200 design include a half-raised forecastle running nearly half the length of the tug to provide a high standard of accommodation and a good sea-keeping capability for operation in exposed conditions. The fore deck is served by two (2) line-handling winches and a double aperture staple. The general layout of the tug is illustrated in the General Arrangement drawing shown here.
The vessel has been outfitted to the highest standards for a crew of up to six (6) people, although the normal operating crew is three (3). The main deck features a Ship's office and a spacious crew mess/lounge, served by a fully equipped, modern galley. The lower deck contains the Master's and Chief Engineer's cabins, both with en-suite lavatories, and two (2) crew rooms, equipped for either single or double occupancy, served by a communal lavatory. The wheelhouse is designed for maximum all-round visibility with a single control station providing maximum visibility to both fore and aft deck working areas. Noise levels below 60 dBA were achieved throughout the accommodation and control spaces of the tug by utilizing advanced methods of isolating main propulsion machinery, as well as high grade insulations and floating floor techniques. Owner's representative Neil Edwards was impressed with the final result, stating "the yard finished the vessel to a very high standard, (and) the sounds levels were the best I have ever observed on any tug."
Main propulsion for the Pilbara Thor comprises a pair of Niigata 6L 28HX diesel engines, each rated 1,838 kW at 750 rpm, and each driving a Niigata Model ZP 41 fixed pitch Z-drive unit, through a Niigata HLP80Y type slipping clutch and Stromag Flex Coupling, all in ASD configuration. The electrical plant comprises two (2) identical Volvo Penta diesel gen-sets, each with a 415 volt/50 Hz. power output of 120 kW.
Fire-fighting is to Fi-Fi 1 Class, using Counterfire pumps and monitors. The two (2) pumps are driven from the front of the main engines through Kumera PTO's. The port pump is rated 1,500 cu. metres per hour, which includes the required deluge capacity, and the starboard pump is rated 1,200 cu. metres per hour. Foam is injected into the system via a round-the-pump type inductor.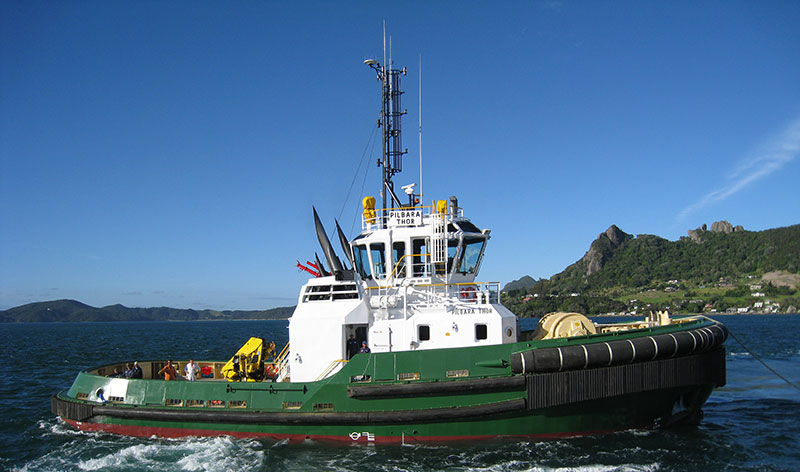 The main hawser winches forward, manufactured directly by Shipco Marine Constructors Ltd. are single drum type, each containing 100 metres x 88 metres polyester eight plait with a 15 metre x 68 mm sacrificial UHHMPE tail. On the aft deck there is a capstan for line-handling and a 15 t-m capacity knuckle-boom crane for stores, etc.
Ship-handling fenders at the bow comprise a 900 x 450 cylindrical fender above a row of 450 mm "W" block fenders. A 300 x 300 hollow "D" fender provides protection at the main and foc'sle deck sheer lines, and "W" block type fendering is used again at the stern.
For more information on the RAmparts 3200 Class tugs, or any other high-performance terminal or escort tug designs, please contact us.