January 5, 2007
After a period of "quiet evolution", Robert Allan Ltd. is pleased to introduce the new RAstar Series of high-performance ASD terminal/escort tugs to the world market. Fuelled by the demands of the many LNG terminal operations coming into play at the present time, the RAstar Series tugs have been developed to offer truly superior ship-handling, escort and sea-keeping performance at exposed terminal locations.
This new class of tugs can trace its genesis to the VSP escort tug Ajax designed for Østensjø Rederi AS in 1996. The unique features incorporated into that hull form enabled a significant improvement in indirect towing performance, but the unforeseen advantage was that this hull shape would also provide a very significant advantage in sea-keeping.
Based on this success, Robert Allan Ltd. began a program of internal research and model testing into the performance and behavioural characteristics of this type of hull form. A key assignment in 2004 led to the development of a major ASD escort tug design, featuring the same general sponsoned style of hull form. This design then served as a model for the next generation of tugs, which have been designated as the RAstar Series.
The model testing program (Figures 1 and 2) was performed at the Vizon-SciTec Model Basin Facilities in Vancouver, under the direction of Alan Reynolds of Offshore Research Ltd., long time associates of Robert Allan Ltd. The testing included basic speed/power characteristics in calm seas and in waves, as well as manoeuvring, sea-keeping, and indirect escort towing performance. Most recently the program has been extended to examine the effects of tug-ship interactions on towline forces in a seaway (Figure 3).
The RAstar hull form incorporates a significant outward flare (or sponson) on the upper hull sides. When the tug is heeled over under influence of the towline during an escort operation, the "weather" sponson is submerged and a large righting force is generated to improve the stability, thus increasing the towline force. In addition, the hull has a large foil-shaped skeg, also designed to provide increased indirect forces.
Although these hull and appendage design features were developed to provide increased escort performance, the sea-keeping characteristics have serendipitously also shown very significant improvements over more conventional hull forms. The RAstar hull forms provide dramatic reductions in roll amplitude and accelerations, and the large skegs provide significant roll damping.
As part of the model testing program to verify the performance of the RAstar hull forms, and to be able to state with confidence that the motions of this new design were a real improvement over existing tugs, a model of a similar size of standard tug was also built, and the motions of the two hull forms were measured in identical wave conditions for a unique vessel-to-vessel comparison.
The seakeeping predictions for the RAstar Series tug indicate that this form of vessel provides an exceptionally stable and comfortable platform for the crew. The significant reduction in motions predicted, as illustrated in Figures 4 and 5, in comparison to the more standard tug type, will significantly reduce crew stress and fatigue, and thereby improve overall operational safety and effectiveness.
| | |
| --- | --- |
| RAstar Series versus Standard Hull Form. | RAstar Series versus Standard Hull Form. |
Currently RAstar Series designs are under contracted development for tugs of 28, 32, 34, 36, 38 and 39 metres in length, with from 65 to 100 tonnes Bollard Pull. Basic particulars of the new RAstar series of tugs are as follows:
RAstar Series Tugs: Particulars

Class
2800
3200
3400
3600
3800
3900
Length, overall
28.20
32.00
34.00
36.00
38.00
39.10
Beam, moulded
12.60
12.80
14.50
14.20
14.50
14.70
Depth, moulded
5.30
5.45
6.20
6.05
6.10
6.10
Maximum draft
5.20
5.35
6.95
5.75
5.10
5.75
Bollard pull
65
75
90
95
100
100+
Speed
13.0
13.3
13.5
14.0
14.5
15
Figures 6, 7, and 8 illustrate some of these new RAstar Series designs, destined for major LNG terminals in four continents.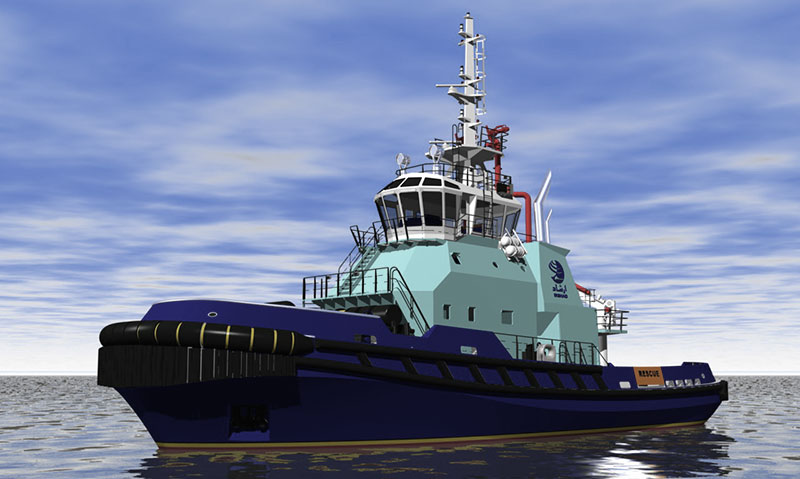 For more information on the RAstar Series tugs, or any of the other high-performance tug designs from Robert Allan Ltd., please contact us.